Faith's Getting Off In Thigh High Boots! (HD Video!)
There's something about going on vacation that makes you more friskier and more wild!  I packed my skin tight zip up vinyl dress and thigh high leather boots and I was ready for a good time.  CLICK HERE to un-zip me out of this dress, I want you to bend me over the counter and fuck me while I'm wearing nothing but my sexy thigh high boots!
Lone Star Angel is Working It & DIY Will Never Be the Same!
Working hard and having fun. As much as I love to dress up and get sexy for you, I also love getting my hands dirty. I'm here, slinging mud, hoping that if you drop by unannounced that you won't mind I haven't made myself up for you. I get more accomplished when I wake up early. That way when you do stop by, we can have some real fun. Join me for a day of work and fun …. CLICK HERE!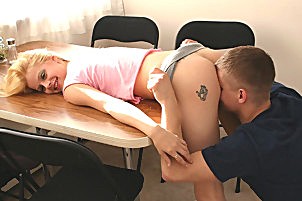 Missy is one flexible little stripper slut. She takes off her clothes and raises her leg higher than I ever saw a tramp do without being a gymnast or ballerina. She quickly starts giving Lance head. This chick is bobbing her head around so that she can get the shlong in at all angles. But it's her vagina that really requires to get banged and she starts riding him. They swap positions and he just keeps banging her eager pussy harder and harder. This girl loves a good time. She bends over for doggystyle and every other position that will help his willy get deeper and deeper inside of her. Missy purrs and moans her way to climax.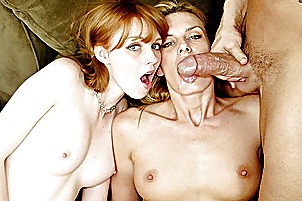 Its Talon's lucky day when he happens upon horny Darryl and Marie. These two are so close they even share their men with each other! Both of the ladies play peek a boo-flashing their firm booties and perfect boobies to the camera-trying to out do each other. As Talon is soon to find out, it would be impossible to choose just one as they are both sexy and very eager to please. Darryl gets her vibrator out and pleasures herself before handing to over to Marie. They suck the tool together then watch while they each have turns riding that shaft.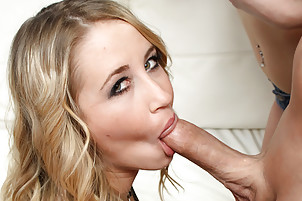 All-American blond college slut, Sami St. Claire is all done with her babysitting duties. As she gets up to leave, she casually mentions that she's going to a modeling shoot, which immediately catches the interest of her kinky employers, Mandy Armani and Scott Lyons! Mandy whips out her camera faster than you can say exploited college slut and soon has young Sami stripping and mouthing Scott's shaft! Just as Scott is about to ram his hard cock home in Sami's playful pussy, Mandi hops on top and Scott bangs Sami while eating out his own wife! After they get their deep dicking, they gather around his dong and balls for cum fiesta!
Kylie Deville & Faith Get Down & Dirty In The Lace Leggings!
Faith gave me a lovely gift of these sexy white lace leggings! I tried them on and she thought I looked so hot that things got frisky between the two of us. We got down to some pussy licking and then used the blue vibrator she keeps in her purse to fuck each other silly! We had satisfied throbbing pussies by the end of our adventure! We want you to see how naughty we were! Does it make you hard? CLICK HERE!
XOXOXO ~ Kylie
Lexi & Rain Double Blowbang 5 More Guys!
(HD & Mobile Video w/free trailer)
This is part 2 of the Lexi & Rain Double blowbang. If you missed part 1 be sure to catch that too. All in all Lexi and Rain sucked the cum out of 10 guys on this day! These two were absolutely loving all the cock, all the attention and all the cum! This video is of them doing the second 5 guys. They have so much fun and the guys had so much fun it was an amazing shoot. Be sides all the blowjobs, swallowing and facials. They also do cum swapping. These two naughty friends definitely knew how to make the guys feel good. The guys that participated had an absolute blast with these women and I'm sure you will enjoy the full scene featuring both black and white guys. Be sure to catch the 5 additional loads of cum these women take! So get the video and see Lexi & Rain do 5 more guys and enjoy all the cum! CLICK HERE!!
Peyton First Ever Porno!
(HD & Mobile Video w/free trailer)
Watching Peyton go to town on the 7 guys that participated in this blowbang was truly a pleasure. Both myself as the video operator and the guys participating were truly amazed at this young woman. She talked dirty, she loves blowjobs and she loved the cum. The guys could not get enough of her. This all natural and pretty 24 year old is real nympho and she really enjoyed watching all the cock get hard and turning on the guys. The more turned on the guys became the more turned on she became. And low and behold we find out when it's all over it's her VERY FIRST porno shoot. She had never shot a movie before! None of us could believe it as she had just finished devouring 7 cocks and 7 loads of cum, getting all messy in the process. Don't miss this newbie and her pure love of cock, cum and her own sexual prowess. So get the video and see Peyton take 7 loads and getting cum all over her in her first ever porno! CLICK HERE!!
Kristine Cumz Pumps Her Pussy Until It's Plump & Ready!
I've always been adventurous and willing to try new things. One of my members requested that I do a set using a pussy pump, but I had never tried one, and within a few days I had this one waiting for me at the Post Office.
I watched a friend use one years ago and she loved it so much she had to put herself on a "30 minutes a week" suspension, or else she was going to wear her vag out, according to her husband. So, as I use this for the first time, I'm hoping for the same amazing experience as she had. I mean, I don't want to wear it out so much that dick doesn't do anything for me, but to reach that amazing climax, in a new and unfounded way, excites me and I am aching as I think about the possibilities.
This is a set to save, in my opinion. It is different. It is new. It is exciting! Watch closely to see my pussy getting pumped to new levels of rage and see the hormones just erupt from me like never before! CLICK HERE!
Kisses ~ Kristine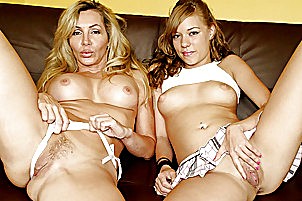 Super sexy MILF Lisa and her sweet young daughter Nicole are stacked from head to toe. Her daughter found out about what her mom does for a living and requires to learn about the industry. Mom teaches her how to take her clothes off for the camera these petite beauties spread their legs and show off their trimmed snatches. Dave gives them a little taste, getting their vagina's nice and juicy. With their hands wrapped around his pecker the girls use their tongues and lips to lube up his boner. He buried his face in one cooche while slamming his wang into another making both beauties moan and groan when they cream.